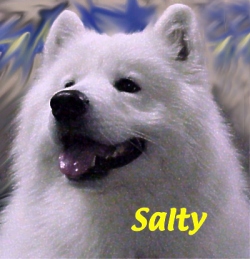 "Am/Int/UKC GR Champion White Gold's Salty Dawg TDI, CGC

Salty was the beloved pet of Hope and Charlie McCarthy and companion to his brother, Bear. This dog had no enemies and brought immense joy to everyone's lives that he touched. In his short 3 1/2 yrs of life, he accomplished more than many dogs do in a lifetime. Among those accomplishments are a best in show, numerous best of breeds, 8 group placements, 3 champion titles, certified therapy dog, and canine good citizen. Not to mention being your best friend anytime you needed him. Salty was put on this earth for a purpose and if it was to bring joy to many lives and to show anyone who saw him, what a wonderful & beautiful dog the Samoyed really is, then he definitely accomplished that goal. He will be greatly missed. Rest in peace sweet boy.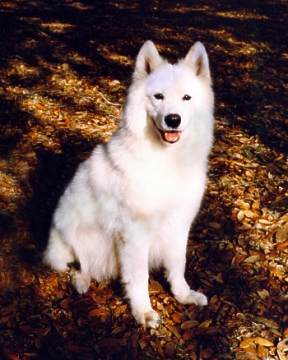 Lady Alicia of Wartland, CD
Alicia was my first Samoyed and the one who started me on my continuing journey with the breed. She showed me just how much Sammies could do, be it conformation, obedience, hiking, sled racing or weight pulling. Alicia also showed me just how much Sammies could get into. She entered my life as a little white fluff ball but quickly became known as Berserko Puppy, racing around a yard two feet deep in snow. From there, she grew into a beautiful lady and a wonderful mother. Alicia, thank you for the love you shared with me. You filled my days with your spirit.
Cheryl West
---
---
---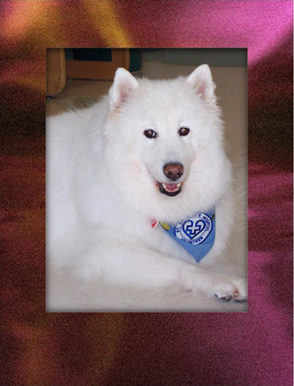 UKC Ch (Barron's) Mary Louise's Snow Angel, CGC, WS, WSX, HIC, HCT
February 20, 1993 - January 9, 2006

Angel was not my first and certainly not my last Samoyed. But she was
my soul sister. Arriving by plane on her breeder's lap, she began
"wooing" to me from day one. Conceived on Christmas Eve, she was truly
an angel on earth. She had a kind and loving approach to all humans she
met and charmed many a male Samoyed as well.

Angel did not come into my life for the purpose of showing but I
decided to give her a chance at the conformation ring. We learned
together and she was always owner handled. Conformation wasn't her
first love but she enjoyed trying to make me happy - doing what I
wanted her to do. Angel went on to earn her UKC championship and
needed only a 3 point major to finish in AKC..

Through participation in the shows, we became friends with many other
wonderful fanciers and their Samoyeds in SFCF. Angel was a part of the
first few sled teams to pull the SFCF sled in the Brandon parades.

Angel introduced me to the world of sheep and herding. I thought she
would be too shy, but she taught me that she was one with Nature and
would heed the call of her ancestors to herd. We participated in
obedience classes to the level that she could have achieved a CD if
only I had been competitive enough to enter her. We took trick classes
together. We took tracking classes and, again, she proved that she was
strong and able, finding her way along a long-dead trail. When I became
lost along the trail, our instructor yelled out, "Trust your dog!" And
I learned that I could do so with complete confidence. She would find
our way.

Probably the thing for which most other people remember Angel is her
10 year weekly stint as Therapy Dog at St. Anthony's Hospital. She was
the first dog there in that capacity. She became a legend for her
gentle sweetness and softness, as well as her willingness to jump
through hoops and over canes and to weave in and out of my legs while
walking - just to bring a smile to the patients' lips.

I will be forever grateful to Angel's breeder, Barbara Cole, for
matching me with my soul sister. Angel truly was an angel. And, some
day, I hope to see her again and to hear her gentle "Woooo".